Along with increasing number of weeks or months of studying –
you collect increasing number of EasyCoins.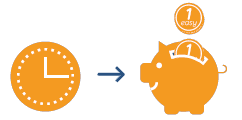 How can I get my EasyCoins?
create your profile and log into
browse a course of your interest:


collect your EasyCoins by choosing up to 3 different types of courses on quote
check on your personal quote how many EasyCoins you earned
Before you can use your EasyCoins
proceed with pre-booking instructions
apply for your course
wait for your school confirmation Letter of Offer
pay for your course using Easy Australia on-line payment option
What to do with my EasyCoins?
use your EasyCoins to reduce price of your:
insurance
accommodation
visa
other services
You can even have it for FREE!